WEBINAR - Influencing change through positive team culture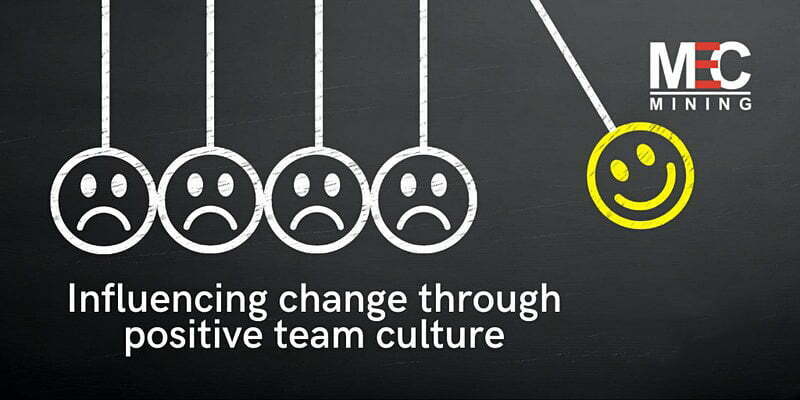 Wed, 12 August 2020
Join MEC Mining and industry experts as they discuss how to influence change within your organisation by embedding a positive team culture.
With the recent market fluctuations, the mining industry in Australia has done an incredible job staying operational. But with commodity prices starting to show signs of stability, it is time to start focusing on building a positive working culture and influencing our people to deliver the best operational performance.
This webinar will focus on how to influence change within your organisation by embedding a positive team culture. The goal is to assist you with building a resilient and adaptable workforce that can navigate through the current uncertainty in the mining industry and position themselves to grow as the market improves.
Our expert panelists:
Matt Harris – Principal Consultant – CTY Group
Matt is the director and principal consultant for CTY, a company that helps mining operations deliver production targets by unlocking value from the relationship between production and planning teams. During his time as a technical and operational leader within the industry, Matt developed a true understanding of the challenges faced by "each side of the fence". He came to realize that many of the daily frustrations his teams were encountering were caused by miscommunication or lack of context and were often easily alleviated by embedding a stronger, more collaborative team culture.
Christofer Catania – General Manager – MEC Mining
Chris is a mining engineer with over 14 years' experience having worked in commodities such as Zinc, Iron Ore, Copper, Gold, Iron Sands and Coal. He has a high level of technical and operational expertise as well as project management and leadership experience in open-cut mining. Chris demonstrates strong skills in short; medium and long term scheduling across a suite of software.
Chris has a track record in operational roles ranging from Mining Engineer to Mine Planning Superintendent in metals and coal, both domestically and internationally. He has recently spent the past two years working for Kaz Mineral's at their Aktogay Copper Mine in Kazakhstan as the Planning Superintendent. During his time in Kazakhstan Chris managed a large mining engineering team and was responsible for the development of their mine planning systems and the preparation of their reserves statements.
Melanie McCarthy – Professional Mentor – Melanie McCarthy Mentor
Melanie McCarthy is committed to supporting technical people becoming exceptional leaders, in business and life. Trained as an engineer, Melanie worked her way up from operator to executive level in the resources industry over twenty years and is now a professional mentor. She helps technical people get out of their head, learn how to play the game, do what they love, make a difference for others and create exceptional success in their life.
Melanie has operational and executive-level experience in the resource sector with expertise in safe underground mining and processing, stakeholder relationships, leadership development, relationship building and contract negotiations with Chinese customers.
Facilitator:
Andrew Dittmann – Manager of Strategy, Brand and Sales – MEC Mining
In his role as Manager – Strategy, Brand and Sales Andrew aims to ensure the MEC Mining brand is recognised as a global industry leader in Mining Engineering Consultancy. Andrew follows industry trends and opportunities to set MEC Mining's strategic direction, management and governance, and is committed to transforming business culture to make relationships count.
Fill out the form to receive a link to the webinar and presentation.